Home » 2012 » October » 29
---
Do you want to make some easy cash? How about taking surveys? It's a great way to make some extra money and it doesn't interfere with what you may already be doing such as: working a job, internet marketing, or building your business. In fact, the money you make will come in handy. Use this money to pay bills, treat yourself or save it for a rainy day. Remember, this is something you can do in your spare time so, you don't have to stress yourself out about it. Set a time of day to login to complete your offers and take surveys. Consistency is key. I know I don't have to tell you what to do with extra money. It's nice to have more than one income coming in these days and cash paying online surveys are a great way to help you do that. It's easy money and you aren't going to get it no easier than this. I know you want to know do you really get paid from taking surveys. Yes, you do. I will be sharing some pictures of the checks that were sent to me. So, you will be getting proof. I'm going to start with my favorite online survey site which is Cashcrate.
Cashcrate
is my number one favorite survey site. It is the site that I have been paid the most money so far. With Cashcrate you earn money by taking survey completing offers, watching videos and referrals. For every new member you refer you earn 20% of what they earn and 10% of what there referrals make. Plus, you get a $3.00 bonus when your referrals earn their first $10.00. See my check below:
TreasureTrooper
is a fun survey site. It's similar to Cashcrate in a lot of ways because you complete offers, take surveys and you can earn money by getting referrals. You also earn by doing cash tasks and cash surveys. You can also do treasure hunts. You can earn an extra $100 if you win one. Also win you refer people you get an extra 20% of all the offers they complete for life. In addition, you'll get 5% commission from anybody that your friends refer. So, if you like a challenge you will like Treasure Trooper. See my check below: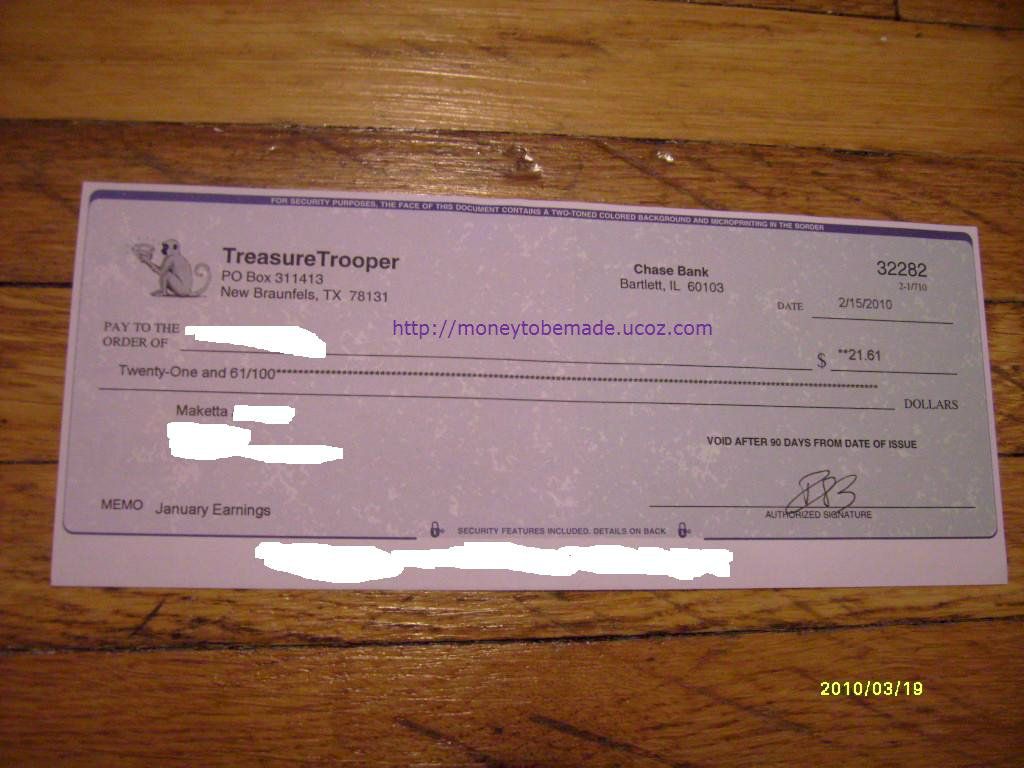 Ipsos is a nice survey site where you earn reward points which you can redeem for gift cards, e-certificates, charity donations, and you can earn cash.

Here are a couple more survey sites that I encourage you to check out than join they are SquishyCash , Toluna,andFusioncash.